home
penis pumping
penis lengthening & enlargement

Penis Enlargement & Lengthening Kits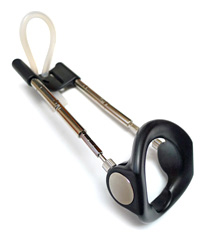 "
Miracle Extender™"
Penis Lengthening Kit
This kit contains everything you need to start, including an easy-to-follow brochure with an illustrated guide to the wear and use of the Miracle Extender penis enlargement device.
Since comfortable, unobtrusive wear is possible during everyday activity, the suggested duration of wear for the device is up to 12 hours per day, for 24 weeks.
An adaptation period of 2-3 weeks is recommended, with suggested limits on the amount of tension applied, and length of treatment sessions strongly encouraged.
The
Miracle Extender
is an affordable alternative to more expensive penis enlargers.
Kit Includes:

• 1 Basal Plastic Ring
• 2 Metal bars with tension springs
• 1 Plastic Distal Support Platform
• 1 Silicone Band
• 2 Foam Cushions
• 4 Metal Extension Rods
• 1 Silicone Security Strap



Please follow all directions and use suggestions included in the kit. Kit should be cleaned daily with antibacterial soap and warm water.

"Miracle Extender™"
Penis Lengthening Device
Item #390-5005
Price: $79.95


Essential Accessories