home
penis pumping
penis lengthening & enlargement

Penis Enlargement & Lengthening Kits





Penis Lengthening Kit



The Penis Lengthening Kit allows you to achieve increased size and performance! The enlargement device comfortably applies a constant stretch to your penis. In response, the stretched tissue slowly expands until you can see noticeable gains.

Throughout history, humans have experimented with the ability of gradual pressure to stretch tissue over time. This penis enlargement device capitalizes on that simple process to help you increase your size. Instructions for a complete regimen of wear and use are included.


This device helps with overall lengthening of the penis as well as adding girth. When used in conjunction with our penis vacuum pumping kits, there is greater increases and more permanent results.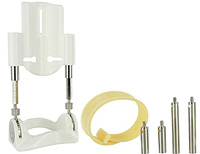 Enlarger is 5.5" long from bottom of base to end of shaft support platform
Opening at base of enlarger is 1.6" wide
Included extension rods add 1" (short rods) and 2" (short rods) to the length of the enlarger and can be attached together to add a total of 3 inches
Rubber strap is 0.9" wide X 7.75" long
Made of ABS, Steel, Rubber

The Kit comes in an attractive case for safe and discreet storage.
Detailed instructions are also included.

Essential Accessories